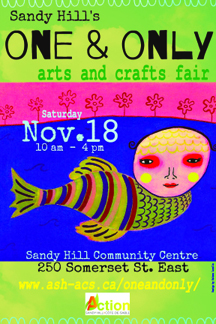 One and Only Arts and Craft Fair, Saturday, November 18, 10 am till 4 pm
Sandy Hill's,  ONE & ONLY arts and crafts fair
The annual ONE&ONLY arts and crafts fair is coming once again to Sandy Hill!
Saturday, November 18, 10 am till 4 pm
Sandy Hill Community Centre, 250 Somerset St E.
Free admission and free refreshments
The ONE&ONLY's vendors will be ready to show their creative works to the hundreds of guests who come to gaze and purchase gifts for friends and family for Christmas, and view the enormous creative talent of the Sandy Hill community and beyond!  Our annual event always brings the community together.
Mitchell and Janet will be showing a selection of their art work including  a sampling of larger format painting as well as seasonal greeting cards , 2018 calendar of Janet's work and many smaller pieces under $100. 
This event marks the beginning of Worldview Studio's autumn event calendar. With a summer's worth of work behind them, there will be much new art to see in the weeks to come.